Hours of Operation:


Mon: CLOSED
Tue thru Fri: 10am - 5:30pm
Sat: 9am to 5pm
Sun: 12pm to 4pm

The Recycle Biker Shop


747 W. Poplar Ave. Ste 101-103
Collierville, TN 38017
901-861-0130

The Recycle Biker Shop on

© 2013 All Rights Reserved by The Recycle Biker Shop
Visit Lets-Ride.com
for a full list of U.S. bike shows, swap meets, poker runs and other motorcycle events.
lets-ride.com
May 15th, 2016 – Missing Fish Poker Run
Starting at The Fillin Station or Recycler Biker – First bike out a 10:00, Last in at 4:00. Entry fee $15 per person or $20 for doubles. To Benefit House of Grace Shelter for Abused women and children.

Take a ride, help out a vet, and enjoy a great fish fry!
Twenty dollar entry includes your fish fry meal.
Veterans Thunder Foundation fund raiser for our annual "Fourth of July Cookout" for the Veterans. Help us raise the money we need to prepare a great holiday meal for those Veterans who need a place to be on the day we all celebrate our Independence!

May 7th, 2016 - Iron Warriors LEMC Poker Run
May 21st, 2016 - Widows Sons Cystic Fibrosis Benefit Poker Run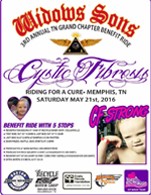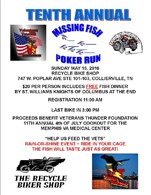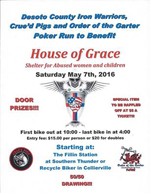 First Bike out at 10:30, Last bike out 11:30. Last Bike in at 2:30pm at Bumpus HD on Whitten. Preregister $20 (w/ Shirt) & Passenger $10 (No Shirt). Register Day $25 (Shirt is first come first serve) & Passenger $10 (No Shirt).